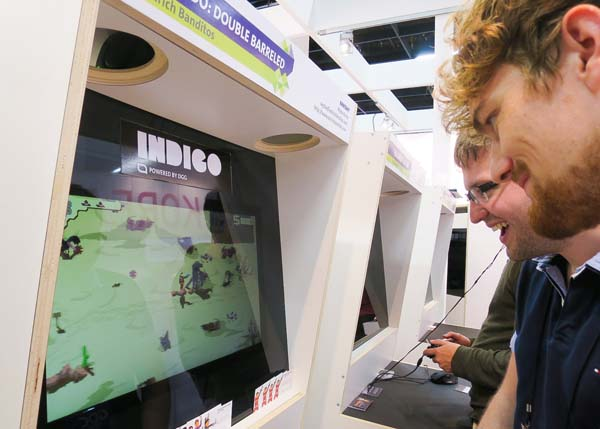 Participating in Gamescom can be highly productive for these young, start-up independent game studios: finding a publisher for the game, seeking partners for ongoing development, networking or attempting to get some of the hundreds of journalists who are attending the fair to play your game.
Nick Aarts from Lionade Games: "This morning we've already managed to arrange meetings with publishers, this afternoon we're sitting down with Sony. Visitors are already calling our game Check In, Knock Out a developers' hit and the guy from Sony is going to play it with his colleagues."

At Gamescom everyone is welcome to play the selected games at the Holland Pavilion stand. Roel Ezendam from Ragesquid: "Action Henk seems to be cheering up visitors to the expo. The game is colourful and it's easy to pick it up."

However, there are also games with a more serious note: Fragments of Him by SassyBot Studio is about coping with bereavement. "Someone from Dutch Cowboys walked past and actually wasn't keen to play to game when he heard what the subject matter was," says game designer Tino van der Kraan. "But this game still intrigued him and he decided to try it, and at a certain point I noticed that he had to wipe away a tear. The game is moving, as it's about exploring empathy and emotion, and it's only when you play the game that you discover how it affects you. It's something totally different to the explosions and flying limbs that you see plenty of in the games here at Gamescom. There's also plenty of press and media: The Huffington Post and the Dutch newspaper Nederlands Dagblad already passed by this morning."