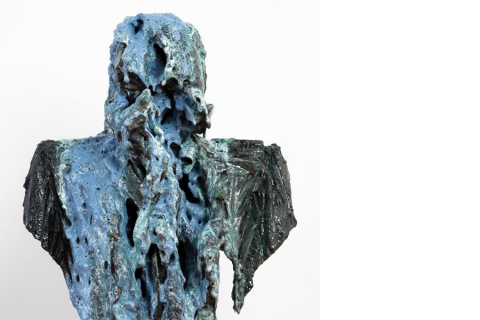 From 13 September to 23 November, the European Ceramic Context event is presenting a exhibition of contemporary ceramics by European designers and artists in Bornholm, Denmark. The work of Anne Wenzel was selected as winner of the European Ceramic Context 2014 Prize in the category Established Artist. The jury praised the strong technical qualities and the understanding of the production process that her work conveys, leading to powerful, almost disturbing end results.
The European Ceramic Context 2014 is a collaboration between the Danish Royal Academy of Design Bornholm, School of Design Bornholm, Bornholm Art Museum and Gronbechs Gard exhibition space. They join forces once every three years to organize a European ceramics exhibition in Bornholm, Denmark. As 'National Commissioner', Liesbeth den Besten selected work by Anne Wenzel, Anton Reijnders, Floris Wubben (New Talent category) and Tim Breukers (New Talent category) to represent the Netherlands, in order to highlight recent developments within the field of Dutch ceramics in an international context, where craftsmanship and tradition still predominate.

Each of these four artists presents a different conception of ceramics, an approach that usually emphasizes the material's plastic and expressive possibilities rather than pure form. Anne Wenzel's experiments with foaming glaze add a new dimension to the function of glazing: this glaze erodes the underlying layer of clay and thus becomes a means of expression. Anton Reijnders uses ceramics for work that goes beyond the bounds of applied art. Tim Breukers, who is currently working at the Rijksacademie in Amsterdam, is also intent on exploring materials and techniques, thus emphasizing their plastic qualities. Floris Wubben devised and built an extrusion machine with which he presses large quantities of clay (up to 30 kilograms in one go) through profiles.

You can find further information at www.europeanceramiccontext.com. This project is being supported by the Grant Programme for Design.