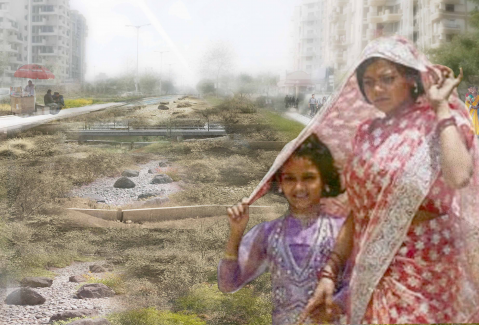 In the first half of 2014, a team consisting of arch-I platform, the Dutch Water Design consortium, Studio Makkink & Bey and Wageningen University have developed the project Water in Dwarka, with the aim of mapping the water issues in Dwarka, an Indian town near New Delhi. Through design research and an intensive process with local stakeholders, the team articulated a series of concrete, implementable projects that will help address the water shortage.
It is expected that in 2050 more than 1 billion people will suffer from urban water shortages. Dwarka is a good example of a city where water shortages are already creating big problems for urban development. Planned in 1992 for 1.2 million inhabitants, 400.000 people live there now. Large parts are still undeveloped, and buildings are only partly occupied. Much of the water used in Dwarka is draining the local ground water, either through illegal pumps installed by the inhabitants, or by rogue tanker trucks. In a few decades, the water table has become so low that much of the ground water has become unusable.

The team approached the water issues holistically, using design to explore different opportunities, while integrating the different sectors and working with all stakeholders, from the local population to the Delhi Development Authority. The result is, a.o., an increased understanding, through designs and visualizations, of how water issues are connected to other issues such as livability (heat islands, quality of public spaces) and economics (urban agriculture, logistics). The team will continue to work in Dwarka on concrete projects, such as the further development, with the local authority, of a design strategy that links the stormwater system to the open spaces, which can subsequently be used for water retention and -harvesting.